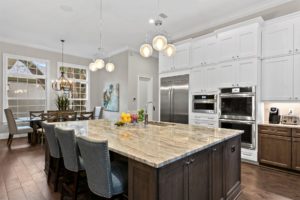 Are you thinking about remodeling your kitchen? If so, you can benefit from hiring a kitchen design expert to head up your remodeling project. When compared to revamping your kitchen as a DIY project, enlisting the help of a kitchen design expert with your local showroom will take your project to the next level. 
The Benefits of Hiring a Kitchen Design Expert for Your Kitchen Renovation
Boost the Value of Your Home
Your home is a valuable investment, and remodeling your kitchen is an opportunity to advance that investment.
Kitchen design experts know the best remodeling solutions for increasing the value of your home. Your designer will help you decide on the best additions and features that fit your budget and make your home more attractive to future buyers. 
Improve the Cost-Efficiency of Your Kitchen Renovation
Many people assume that DIY projects will always be more budget-friendly than professional jobs. However, when you factor in the superior quality and efficiency that you'll get with a kitchen design expert, this isn't the case.
A kitchen design expert will spare you from making expensive mistakes, like purchasing the wrong size cabinet door or a kitchen faucet that isn't compatible with your plumbing. Plus, your kitchen design expert's insights will get you the best value for your money and can help you stay within your budget. 
Speed Up the Kitchen Remodeling Process
No one wants to run overtime on a home remodeling project. You live in your home, after all, and a prolonged renovation could be disruptive to your schedule. With a kitchen design expert, your remodeling project can be completed with greater efficiency. Skilled kitchen design experts have the experience to give you an accurate estimate and follow through on their deadlines. 
Total Design Source is the expert name in design studio consulting in Tampa. Having completed thousands of kitchen renovations in the area, we can provide you with top-caliber kitchen design services, along with our convenient showroom. Contact us today to learn more.