Closet design is a specialized craft. If you've ever had a custom closet installed in your home, you know how large of an impact it can have on your routine. When a closet is built just for you, from the height of the shelves to the color of the drawers, it will mesh seamlessly with your lifestyle and storage needs.
At Total Design Source, our experienced team is here to design a closet that brings greater convenience and organization to your daily routine. Whether you need an expansive walk-in closet or a space-saving wardrobe, we're here to create the perfect closet for your needs.
Avoid Closet Shortcomings with Expert Design Services
Our expert team is committed to providing you with the highest quality of closet design, construction, and customer service. From the initial consultation to the final stages in construction, we'll ensure that you have an excellent experience.
Adjustability Is Key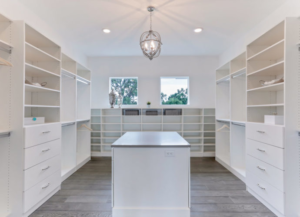 Storage needs to evolve along with the changing seasons and your changing lifestyle, so your closet should be fully adaptable. Our leading closet designs incorporate adjustable drawers, shelves, and rods, giving you the freedom to alter storage space as needed. We'll ensure that your custom closet makes the most of the available space while providing versatility for your ever-changing needs.
Make the Most of Every Inch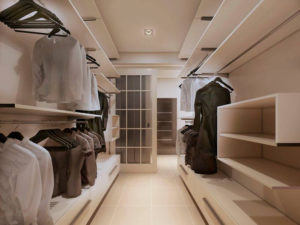 One classic closet design mistake is too much empty space above the top shelf. Your closet should be designed for maximum storage space, and that includes the topmost area.
We'll work with you to design a space-saving solution for the topmost section of your closet. From suitcases to next season's styles, an optimally-designed closet will provide upper storage space for the items that you don't use daily.
Shelf Depth for Your Needs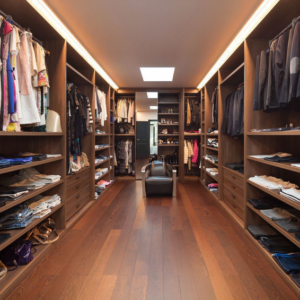 A major shortcoming of many closet designs is a lack of depth. Shallow shelving can cause your garments to hang off of the shelf edges, creating a haphazard appearance. Our design professionals will create shelving with depth to spare for all of your clothing. That way, your wardrobe will have a sleek, put-together appearance.
Don't forget the details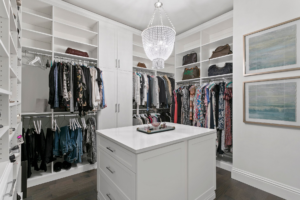 Give some thought to your electrical plan. A chandelier above an island or ottoman, if there is room, will make your space extra special. Plugs for a charging station, a hidden ironing board or a portable steamer for last-minute touch-ups, will make your life easier. Make sure your closet expert brings in an electrician for all of these possibilities.
Are you feeling the need to increase your storage space or make better use of the storage space you have? Are you feeling disorganized and cluttered? Contact us today for more information or to schedule your in-home consultation.