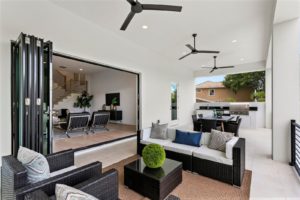 Coastal homes offer the innate beauty of the seaside. However, to adequately portray the charm of the coast in your home, thoughtful design is crucial. From the layout to the lighting to the flooring and more, there are many aspects to consider in a coastal home design. 
Here, we'll discuss our top coastal home design elements so that you can consider them for your abode. 
Natural Materials
Natural materials like wicker, jute, and rope are fitting additions to coastal designs. Whether included as part of your furniture, rugs, or wall decor, natural materials will give your interiors the look of an authentic seaside home. Plus, natural materials pair seamlessly with countless color palettes, giving you many options as you update your coastal home. 
Light Hardwood Flooring
Hardwood floors are a timeless choice for coastal homes. Rather than choosing dark, warm hardwood, opt for pale, driftwood-esque flooring for beachy interiors. The light hardwood will brighten up your home, striking a balance between classic and refreshing. 
Open Floor Plan
To exemplify the breezy feeling of a day at the beach, consider an airy, open floor plan. With a spacious kitchen and living area, you'll be able to host get-togethers with ease. Large picture windows that let in plenty of light can enhance your open living area, helping you take advantage of seaside views and year-round sunshine.
Built-In Cabinets
Built-in cabinetry will keep any clutter in your coastal home stowed away neatly. This will give your home a lighter look while streamlining your daily routine. From the mudroom to the kitchen to the bedroom, built-in cabinetry is an excellent choice for updating the design of your modern beach house.  
Total Design Source in Tampa is a leader in design studio consulting. We're here to help develop an exceptional, cutting-edge design for your coastal home. Contact us today to learn more.