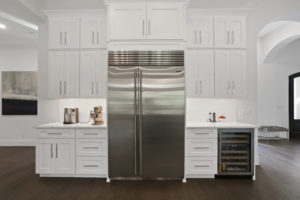 Do you find yourself dreading going into the kitchen? Does the thought of putting away the groceries fill you with anxiety? Does cooking and baking seem to be more of a chore because you get frustrated moving all over the kitchen? 
There are a lot of reasons that you might want to organize your kitchen cabinets better than they are now. Especially if you have limited time in the kitchen but love to bake or cook, an organized kitchen will allow you to make the best use of your time. Here are some tips for organizing your kitchen cabinets for efficiency.
Divide Your Kitchen into Zones
The easiest way to make sure that your kitchen is designed for efficiency is to divide your kitchen into zones. Some examples of zones you will want to include are:
Everyday essentials should be near the dishwasher and easily accessible to everyone in the household. This should include bowls, plates, glassware, and the service ware that you use the most. 

The cooking zone should be near the stove, and it should include all of the things you need to cook including your spices and seasonings, your pots and pans, and your cooking utensils and tools. You should also keep your baking essentials like cookie sheets and pans as well as mixers, measuring cups, and measuring spoons in this zone as well.

The pantry zone of your kitchen can be pretty much anywhere you want it. It can be helpful to keep your pantry items near your cooking zone.

The next zone of your kitchen is the storage zone. You should keep all of your plastic wrap, Tupperware, and Ziplock bags in this area. It should be near the fridge.
You may also need to include a zone for kitchen cleaning supplies, a zone for coffee, tea, and alcoholic beverages, and a zone for special service ware and pans that you don't use on a frequent basis.
If your kitchen cannot be organized in this way, it may be a good idea to have your kitchen redesigned, particularly getting new cabinets that meet your needs. If you are interested in new kitchen cabinets custom built for your needs, contact us today to get started.