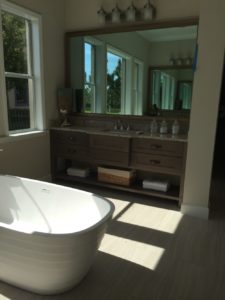 How often have you found yourself wishing for more storage space? How many collections do you have that are disorganized or hidden away? How many closets might burst at any moment? If you can relate to any of these questions, you should read on about the many ways you can make use of built-in cabinets throughout your home.
In the Kitchen
Built-in cabinets in the kitchen can help you make use of your space effectively. If you wish you had more cabinet space in the kitchen, but you don't want to take away from the floor space, you can have cabinets built into the wall. 
In the Bathroom
If you have a small bathroom and no linen closet, you probably have a hard time figuring out where to store towels, wash cloths, and the like. You can have cabinets built into the walls of your bath so that you can have towels at the ready. You can also get cabinets built into the walls around your fixtures so that you are able to expand your storage.
Office or Craft Room
If you work from home or do a lot of crafting, there is probably one room in your home that is the most disorganized—your work room. Keeping office supplies, files, equipment, craft supplies, and projects organized can be a nightmare. Many people try to use file cabinets or plastic tote boxes to organize and store everything, but it can be difficult to put your hands on what you need when you need it.
Custom built-in cabinets in these rooms will allow you to stay organized and find what you need quickly. It will also be easier to keep supplies on hand.
If you are interested in custom built-in cabinets for your home, contact us today.