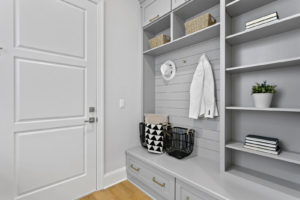 If you are lucky enough to have a mudroom in your home, you have an opportunity to keep your home clean and organized. Often, the messiest part of the house is the entry point. Mail piles up, shoes clutter the doorway, and jackets get tossed to the side wherever they may land. If you have a mud room, you can make that the main entry point for your family and close friends, keeping the mess contained.
If you want to really keep everything organized, you're going to need a good storage system for items that will commonly be in the room. If you don't have good cabinets, shelves, or cubbies in your mudroom, that is something you will want to address quickly. Here are some must-have storage spaces you need.
Shoe Storage
Shoes will clutter up a mud room fast, and they need to be stored where it won't matter if there is mud or dirt on them. A great way to include shoe storage in your mudroom is to install a bench with built in shoe storage underneath. This way you have a convenient area to remove your shoes. This should be placed as close to the door as possible to minimize mud and dirt being tracked into the house.
Jacket Storage
Jackets, coats, and the like are often the hardest items for which you need to find storage space. Even if you have a coat closet in your home, if you use your mudroom as your main entry point, you will need a way to store jackets and coats there as well. Some built-in cubbies with hooks are usually sufficient for most families.
Accessory Storage
Your mudroom will serve its purpose best if you keep everything that frequently goes in and out of the house in that space. For that to happen, you'll need storage for accessories like bags, purses, sunglasses, wallets, and reusable shopping bags. You will also need a water resistant place to store items such as umbrellas, rain boots, and ponchos where they can dry safely out of the way.
If you are needing new storage solutions for your mudroom, contact us today.