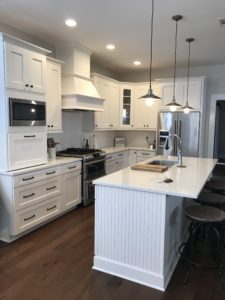 With the holidays right around the corner, now is a great time to upgrade your kitchen cabinets. If you act quickly, you can get new cabinets installed just in time to use your new kitchen to prepare all those holiday meals and goodies. Need an excuse to upgrade your cabinets? Here are three reasons to do so.
Gain More Space
One of the biggest complaints of most homeowners is that they don't have enough storage space. The same is true of your kitchen. Especially if your family has grown since you bought your home, it is entirely possible that your kitchen cabinets no longer meet your needs. Getting a kitchen cabinet makeover can give you a lot more usable space, as well as a more convenient space, to store all of the foods, spices, dishes, pots and pans, cooking tools, and the like that you might need.
Tailor Your Kitchen to Your Needs
Chances are you didn't pick your kitchen cabinets. They were probably already installed when you moved into your house. You might have specific needs or desires for your kitchen that aren't met by your current cabinet set up. You might need a corner cabinet for your mugs and coffee maker or a cabinet near where you feed your pets to hold their food and treats out of sight and out of mind.
Create a Sustainable Kitchen
Upgrading your kitchen cabinets is a great time to help make your home more eco-friendly. The cabinets you currently have in your home might be cheap, chemically treated wood, but you can get new cabinets that are sturdier and leave less of a carbon footprint than traditional cheaper cabinets.
If you are interested in learning more about how we can upgrade your kitchen cabinets, contact us today for more information.