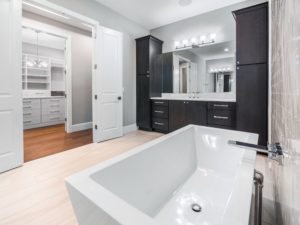 Regardless of why you have decided to remodel your bathroom, it is a great time to design the room in a way that makes the most sense for you. Not only does a bathroom remodel give you a chance to get the aesthetic and theme you want, it also gives you an opportunity to customize how your bathroom is organized, unique to you and your family. Here are some ideas.
Recessed Built-In Shelving
You can really never have enough shelves in a bathroom. The biggest complaint most people have about their bathroom is that it doesn't have enough storage space. Or if it does have storage space, it is very compact and not easily organized.
With recessed built-in shelving, you can have all of the organization you need without taking away open space in the room. The shelving can be designed to hold towels, washcloths, cleaning supplies, makeup, toiletries, paper and feminine products, and much more. 
Bath or Shower Organization
Are you getting your bath or shower replaced? Now is a good time to talk to your contractor about organizing all of your toiletries that stay in this area. Razors, shave gel, shampoos, conditioners, body washes, bars of soap, and other toiletries you need in the shower are usually cluttered and all over the place. If you have multiple people in your household using multiple products, built-in shelving above the bath or just outside a standing shower can make life easier.
Hidden Shelving and Drawers
Do you frequently use products in the bathroom that you don't necessarily want everyone to see? This could include feminine hygiene products, incontinence products, hemorrhoid treatments, or similar somewhat embarrassing personal care products. Talk to your contractor about adding another recessed, hidden shelving unit for these needs.
If you are interested in getting more ideas for your bathroom remodel or if you're ready to get started with an estimate, contact us today.