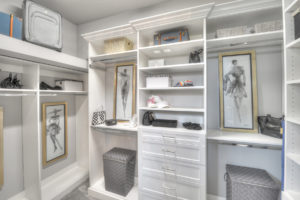 One of the biggest complaints of homeowners is that they don't have enough closets, and the closets they do have are just open cavities that seem to have been built as an afterthought. These empty chambers usually have just a clothing bar and one upper shelf. If you need to store anything other than clothes or coats, that closet isn't doing you a lot of good. 
If you really want to make use of your closet space, you'll need to spruce it up a bit (or maybe a lot). Here are a few ways you could do that.
Rubber or Plastic Tubs or Totes
These tubs or reusable boxes are fairly inexpensive; although, depending on what brands and products you choose, it could add up. You can certainly organize in these and stack them up in your open closet space. 
Pros: Inexpensive, durable storage
Cons: The first time you have to get a box from the bottom of the stack, you'll be sorry you chose this option as you have to empty the rest of the closet to get to it.
Insertable Shelving
You can buy shelving systems at most department stores. They vary in price by quite a bit, depending on what they are made of, whether they come assembled or in pieces, and the size, as well as adaptability.
Pros: Usually reasonably priced, quick fix with little effort and no necessary skills
Cons: You'll have a hard time finding just the right fit for what you need; and if you have an irregularly shaped or measured closet, finding something suitable could be impossible.
DIY Shelving
Maybe you can't find the right shelving to just insert into your closet, but you're determined to get organized. You can go to the hardware store or lumberyard to get the wood, screws, nails, and brackets you need, and you can get ideas for how to build it from YouTube. 
Pros: You don't have to pay a contractor for labor.
Cons: If you're not used to building furniture or shelving, you shouldn't attempt a DIY storage solution. If you don't build the closet shelving just right, your shelves may not be able to hold the weight you need. And without that added support, you or someone in your household could easily become injured if the shelf breaks free.
Our Professional Closet Upgrade Services
If you want real closet storage solutions that meet the unique needs of your household, we are here to make it happen. Our professional and experienced team can give you all new closets that work for you. Contact us today for more information or to talk about estimates.