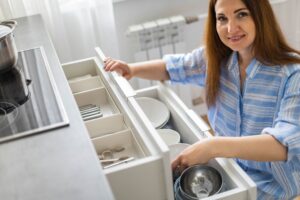 For many families, the kitchen is the heart of the home. But, it can be hard to keep organized. With crockery, pots, pans, gadgets, utensils, and all sorts of pantry items, your kitchen may seem to overflow with items. Thankfully, you can make the most of your counter and cabinet space with clever kitchen organization strategies. 
Here are a handful of kitchen organization ideas you'd never think of: 
Toe-Kick Cabinets
The toe-kicks are the indented area beneath your lower cabinets. While this may seem like too little space to make use of, it's the perfect width for thin items like baking sheets, muffin pans, and even cookbooks that you only pull out every once in a while. Don't let this valuable space go to waste!
Exposed Wine Storage
Wine storage can take up significant space in your kitchen. But, with clever, exposed built-ins, those bottles can serve as an attractive feature. Try narrow exposed shelving and store the bottles horizontally for the elegant look of a wine cellar. 
Thoughtfully-Placed Outlets
With recipe sites and cooking apps, smartphones and tablets now double as kitchen tools. With those gadgets comes the need to charge them. So, consider placing outlets where the cords won't eat up your counter space – you could even create a charging drawer to keep those devices out of the way. 
Utilize Vertical Space
With high cabinets, it's easy to waste space at the very top. Make sure this space works for you by installing shelves all the way up to the top of the cabinet, allowing you to store shorter items, like mugs, without the need to stack them. 
At Total Design Source, we offer custom built-in closets and cabinetry so that you can utilize every single inch of your kitchen. Contact us today to get started!