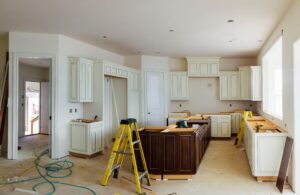 Embarking on a kitchen remodel is an exciting (and fruitful!) process. But, it also involves many moving parts, making organization, coordination, and communication key. In this article, we've compiled some of the tips that homeowners wish they knew before getting started. 
Plan Carefully Before Construction Starts.
The further along you get in the kitchen remodeling process, the more difficult it will get to change your mind. For example, once the plumbing has been moved (if relocating plumbing is part of your plan), you typically can't turn back. So, take all the time you need to settle on a floor plan before construction starts, and make sure you're wholly confident in your choices before the contractors come. 
Schedule, Schedule, Schedule. 
A complete kitchen remodel is an often lengthy process that can disrupt your day-to-day. It'll be worth it in the end, but that doesn't mean you should schedule the work for any time.
You'll need to come up with a makeshift kitchen or plan to eat out while the construction is ongoing, and you'll need to plan for having contractors in your home. So, take a long, hard look at your calendar before setting the date (and plan for the project to run over, as construction can be unpredictable). 
Don't Be Shy With Questions or Concerns. 
Contractors are professionals, but that doesn't mean they'll see your vision through a crystal-clear lens. But, you can get on the same page as them with consistent communication. Don't hesitate to double-check the details, ask questions, or point out errors the moment you notice them. This communication will simplify everyone's job in the long run!
Get The Help of The Pros.
A kitchen remodel can be overwhelming, but enlisting the help of the team at Total Design Source will make it easier! We offer a comprehensive collection of materials in one showroom, and you'll get a professional Design Consultant to guide you through it. We've also partnered with top professional remodelers in Tampa Bay to bring your vision to life – without the hassle. 
Contact us today to get started!