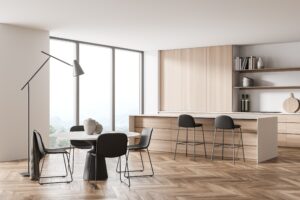 Kitchen design trends are always fluctuating. Homeowners looking to remodel their space can consider these trends to create a modern space that suits their style and needs. 
Some of today's most prevalent kitchen remodel trends include:
Exposed Shelving
Taking a hard turn from the minimalist approach, exposed shelving to show off your kitchen's most attractive crockery is a clear trend in 2023. With open shelving, your kitchen items can become decorative features that are no longer hidden away in closed cabinets and drawers. 
Colorful Islands
A kitchen island is an excellent opportunity to showcase a pop of color. If you don't want to commit to colorful cabinets and drawers, an island is a more subtle way to work color into your kitchen. 
Statement Backsplashes
Homeowners are now taking advantage of backsplashes as a way to showcase their personalities. From vibrant colors to bold patterns and unconventional materials, eye-catching backsplashes are a clear trend in current kitchen remodels. 
Black Hardware
Homeowners are taking a step back from conventional chrome kitchen hardware, instead choosing to make a statement with matte black faucets and cabinet handles. This modern, elegant option pairs particularly well with wood accents. 
Butcher Block Countertops
A butcher block countertop can warm up a kitchen, giving it a rustic, cozy appearance. Plus, this countertop option requires almost no maintenance, aside from the odd coat of mineral oil, making it a stellar choice for busy households. 
Natural Materials
Natural materials, like unpainted wood, have become a popular choice for kitchen remodels over the last few years. Many homeowners are even opting for recycled or repurposed wood to enhance their kitchen designs while reducing their environmental footprint. 
To start your kitchen remodel project and gain expert guidance, reach out to the team at Total Design Source in Tampa today!