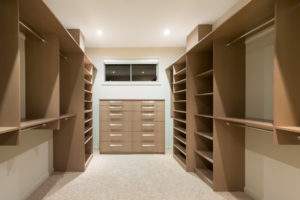 If you're looking to take your home's space to the next level, consider built-in storage. Built-in storage units are incorporated into the structure of your home, providing a sleeker look along with streamlined functionality! Modern homeowners love the look and function of built-in storage, along with the value that it provides to their homes. 
With built-in storage, the sky's the limit. There are countless options to fulfill your home's storage needs, from cabinets to closets and everything in between. Here, we've compiled a variety of innovative built-in storage ideas so that you can gather inspiration for your Tampa home!
Built-in Wine Storage
You can bring the benefits of built-in storage to your kitchen for a smart, elegant way to stow away wine. Built-in wine storage will give your kitchen or dining area an upscale touch while providing convenient access to your favorite bottles. 
Built-in Mudroom Storage
Your home's mudroom has a tall task: To store the family's shoes, coats, and bags. But, this room is all too often neglected and left disorganized. Built-in storage is a simple way to maximize space in your mudroom so that everyone has a designated space for their shoes and outerwear. 
Built-in Seating With Storage
Banquette seating, whether as part of your dining room or a breakfast nook in the kitchen, offers an opportunity to add built-in drawers. Built-in drawers can be installed beneath this stylish seating choice so that you can easily find space for table linens, extra flatware, serving pieces, seasonal decor, and any other items that require easy storage. 
Built-in Bedroom Storage
For modern storage in the master bedroom, consider built-ins. Open shelving for books and picture frames can be combined with drawers for bedding and accessories to create a chic, yet functional built-in storage unit. 
Total Design Source offers built-in storage to revamp any room in your home. Contact us today to get started!