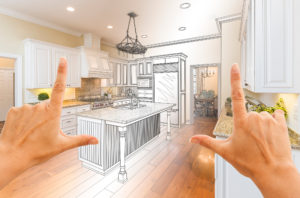 By remodeling your home, you can update your interiors, gain much-needed living space, and increase the value of your home. To ensure that your home remodeling project goes smoothly, it's important to plan it carefully. 
Step 1: Determine Your Goals for the Remodel. 
The first step in planning your home remodeling project should be to determine your goals. Your vision for the project will guide each of the other steps in the planning process. Whether you need more space for a growing family, are looking to boost the value of your property, or want to modernize your living space, your goals are crucial to guiding the remodel. 
Step 2: Set a Budget. 
Next, you'll need to make a major decision: What's the budget for your remodeling project? Price points can vary greatly depending on the project, but setting yours early on is crucial. With a solid budget from the start, it'll be easier to keep expenses under control. 
Step 3: Hire a Team. 
You'll need a team of experts to execute your home remodeling project. Working with a professional design team, along with builders and remodelers, can ensure the success of your project. At Total Design Source, we offer leading design studio consulting along with reliable services from our building partners. 
Step 4: Choose Design Elements. 
Selecting design elements like cabinets, countertops, closets, and window coverings is the next step in the process of planning your renovation. Your design consultant can help guide you through the available options that align with your vision and are within your budget. 
Step 5: Establish a Final Timeline. 
Next, you'll need to work with your design and construction team to establish a realistic timeline. Your contractors' availability will also need to be considered in the final timeline, so this step should be completed a few months in advance of your anticipated start date. With a final timeline, you can also secure the necessary permits to adhere to local renovation regulations. 
The process of planning your home renovation project should begin many months before you want the work completed. To get started today, contact Total Design Source in Tampa!