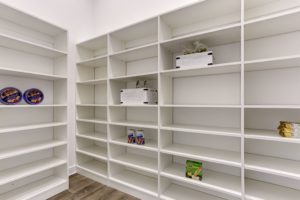 Have you ever considered making the switch from furnishings to built-in options? There are a lot of advantages to getting built-in shelving and ditch the excess, large, bulky furniture. Here are just a few of the advantages to scheduling an estimate for your new built-in shelving.
Built-in shelving utilizes "unusable" spaces.
Some living spaces, especially if they are a bit oddly shaped, have at least one nook or cranny that seems impossible to use. Finding just the right sized cabinet or bookcase to fill the space could be a nightmare, but it can easily be transformed into additional space through built-in shelving.
Children are in danger from tipping over tall furniture, especially pieces with shelves.
Did you know that over 14,000 children are injured every year due to falling furniture? When toddlers and small children climb on the shelves of bookcases and media centers, it can easily cause the furniture to pull away from the wall and fall on the child. Most bookcases and media centers today are made to be lightweight, which makes them more susceptible to falling over with the weight of a child on the front.
Stable shelving for collectables
If you have a lot of breakables that you like to display, built-in shelving might be the best way to do so. A bookcase or display case can be bumped into, jolted, or even knocked over, but built-in shelving will remain steady no matter what, keeping your treasures safe.
If you are interested in built-in shelving for your living room or family room, for these or other reasons, contact us today.