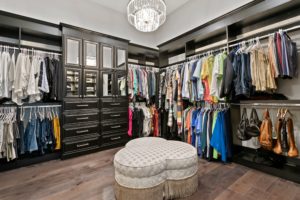 Did you know that out of the 80 percent of Americans who are not completely satisfied with their home purchase, almost 10 percent said that the worst sticking point was a lack of storage and closet space. But what makes this so frustrating? Here's what most homeowners have to say about their lack of closets.
Why is there never a closet near the front or back doors? 
If you have a dirty job or hobby, having a closet near the main point of entry is ideal for keeping the mess contained to one location. If it is raining, having a closet by the door gives you a dry place to store open umbrellas, hang rain coats, or allow rain boots to air dry. A handy spot for grabbing a jacket is also a plus.
Where is the linen closet?
Unfortunately, just like hall closets, linen closets have somehow fallen out of favor with home builders. Since homeowners are demanding that linen closets have a comeback, this obviously is due to building costs and timeframes rather than demand. Having a dedicated linen closet gives you the best chance of keeping your blankets, sheets, and towels organized.
All families should have a pantry.
There is never enough cabinet or shelf space in the kitchen for a month's supply of dry and canned goods. If you prefer to buy your groceries by the month or in bulk, you should definitely have a pantry. This can look similar to the linen closet, but it should be located near the kitchen or dining area.
Because these issues are common problems in almost every subdivision, most homeowners go ahead and buy homes without these features. If you are such a homeowner and are regretting your decision to buy a home without the adequate cabinet and closet space, contact us today for a complete remodel of your closet and storage systems.