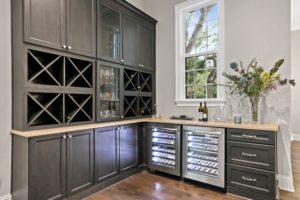 Your kitchen is the heart of your home. It's where the family gathers, holiday meals are created, and celebratory toasts are shared, but your kitchen also gets frequent day-to-day use. Whether you're making lunches during the morning rush or whipping up lunch or dinner, you need convenience in the kitchen. With a few easy remodeling projects, you can boost the ease of use of your kitchen and streamline your daily routine. 
Built-In Cabinets
Storage — it's one thing that a kitchen can never have enough of. A built-in cabinet renovation project can give your kitchen the accessible storage space that it needs for greater organization. Pantry items, kitchen equipment, and tableware can all have a designated place in your new built-in cabinets. Well-placed cabinetry will keep your kitchenware out of the way of your cooking space while still being handy whenever you need it. 
Thoughtful Flooring
In your kitchen, the flooring should be both practical and beautiful. A flooring option that's low-maintenance and easy to clean will make it a snap to keep your kitchen sparkling. After all, the kitchen receives a lot of foot traffic, so you need flooring that you can count on. By renovating your flooring with one of the many options available at Total Design Source, you can refresh the look of your kitchen and cut down on the floor maintenance required in your home. 
Beautiful, Low Maintenance Countertops
Your countertops provide the space for chopping, mixing, rolling, plating, and more. But beyond its practical purposes, a countertop can make a sizable impact on the overall look of your kitchen. At Total Design Source, we provide a wide array of strong, functional, and visually striking countertops for your kitchen renovation. Your new countertops will be highly durable so that you don't have to worry about damage as you're cooking up a storm. 
Contact us today to schedule a home consultation for your kitchen renovation project.