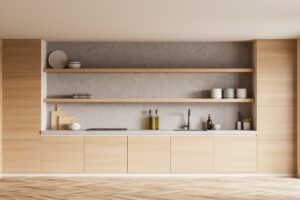 Built-ins are storage units installed directly into the structure of your home, providing seamless storage and a modern appearance. Choosing built-ins as your next renovation project can provide numerous benefits for your home, including:
Space Efficiency
The primary benefit of built-in storage is that it can create more open space in your home – with no expansion necessary. Since this form of home storage is built directly into the structure of your home, it's a more efficient way to stow away your belongings. This will create more free space for furniture and appliances, or for people to walk around. 
Enhanced Organization
Built-ins are designed to provide the storage you need, allowing you to more efficiently organize your items. Perhaps you need shelves all the way up to the ceiling for book storage, or built-in wardrobe space to fit all of your clothes. In any case, the built-ins can be designed to organize your property as effectively as possible. 
Customization
The size, function, and overall design of your built-in storage can be customized. This means that you can make the most of your home's unique dimensions, maximizing any space that's currently unused.
Aesthetic Value
Built-ins can also be customized to enhance the appearance of your home. From the color to the finish to the hardware and more, built-ins can seamlessly blend with the other design elements in your home.  
Overall Value of Your Home
Built-in storage is an investment in your home that will increase its overall value. If you choose to sell your home in the future, the built-ins are a selling point that can bump up the property's price. 
At Total Design Source, our unparalleled expertise in home design and space planning allows us to provide leading-quality custom built-ins in and around Tampa. Contact us today to learn more!