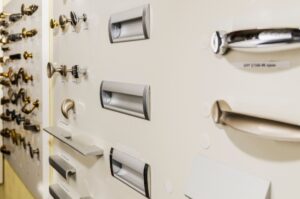 Cabinet hardware may not be the first thing you think about during a renovation. But, from the kitchen to the bathroom to the closet and beyond, they're essential to the form and function of your home's cabinets. 
In this article, we'll provide a comprehensive guide to cabinet hardware for your South Florida home. 
Types of Hardware
The two primary types of cabinet hardware are decorative and functional. 
Decorative Hardware
Decorative hardware, as the name suggests, is like an ornament for your cabinet. It can feature all types of designs, from sleek to intricate and even colorful. While decorative hardware is intended to enhance the appearance of your cabinets, it also provides functional value.
In the cases of knobs and pulls, they're used to open or close the cabinet. Cabinet knobs are usually small and round in shape, while pulls have a larger, elongated shape, like a typical handle. 
Functional Hardware
Functional hardware, on the other hand, is purely functional. The primary example is hinges, which may be exposed or concealed, but are necessary for cabinets to open and close. Other types of functional hardware include:
Cabinet door

latches and catches help

keep the door in place when it's shut.

Drawer

slides

allow cabinet drawers to open and close smoothly. 
Cabinet Hardware Materials
Cabinet hardware can be made out of many different materials. Stainless steel and brass are two popular options, and they're usually coated in a protective finish to prevent rust, fading, or discoloration. Other hardware material options include:
Bronze

Cast iron

Acrylic

Crystal

Ceramic

Glass

Zinc

Wood 
Cabinet hardware also comes in an array of shapes and styles to suit any home design, from sleek and modern to vintage farmhouse and everything in between. 
At Total Design Source, we're here to help you find the perfect cabinet hardware to suit every room in your home. Reach out to us today to get started!