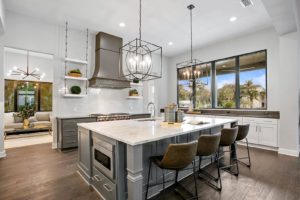 Do you want a new kitchen before you have to cook a huge thanksgiving dinner for your friends and family? You're going to need to start now if you want to have it completed in time to make your project a success. Here are some of the biggest reasons you need to contact us now for your kitchen remodel design.
The average kitchen remodel is going to take a minimum of six weeks from start to finish.
You can speed up the process by starting with a clear budget that is mostly set in stone, but has a bit of wiggle room built into it. By setting and sticking to a budget and narrowing down your choices based on that budget, you'll be able to make fast decisions and get the ball rolling on the actual construction.
Developing and approving your new kitchen design is everything for the success of your project.
You and your kitchen designer should form a partnership in which they work to give you the best possible kitchen that meets as many of your desires as possible while still sticking to your budget as closely as possible. It's a fine balance to walk, and not everyone can communicate effectively. 
The fewer rounds of drafts you have to go through, the faster the work can be completed. If you don't seem to be getting what you want after a few drafts, try working with another person as a go between to try to improve communication and get the design nailed down quickly.
Fall is often the downtime for contractors.
Many contractors don't get as much work during the fall. For many families, it makes much more sense to tackle renovation projects during the summer months. The best contractors who can be booked for months during the summer might be able to squeeze in your remodel before the holidays. 
Ready to get started? Contact us today.