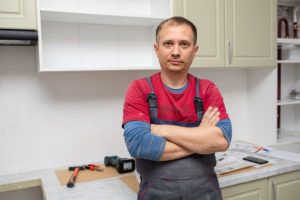 Making the decision to get custom cabinets is an important one, but it is equally important who you hire to install those custom cabinets for you. You want to know that your custom cabinets are going to be installed seemingly effortlessly, with the utmost respect for your home, and in a professional manner. Here are some things you should look for in a custom cabinet installer to get the best possible experience.
Licensed and Insured
Make sure that the custom cabinet installer you hire is a licensed and insured company. This is extremely important. A licensed business is one that is held accountable. An insured business is one that can cover injuries to their workers if any occur. That is important not just for the outcome of your project, but also in protecting you from any liability.
Trained and Experienced
All of the workers on your project site should be well trained and professional. While not everyone working on your project might have years of experience, there should be highly experienced professionals doing the majority of the work. Ask for references and certifications of the team that will actually be installing your custom cabinets.
In-House Manufacturing
If you want truly custom cabinets, you need an installer who can also build the cabinets to your specifications. We are able to create the cabinet solutions of your dreams with your vision and our expert custom cabinet installers.
If you are ready to hire a reputable, licensed, insured, and experienced custom cabinet installer, contact us today for more information or to get started.