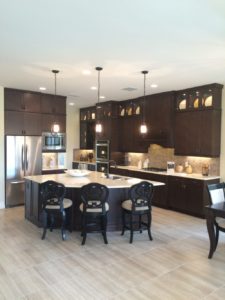 If you have hired a builder to install or remodel your kitchen, you may be thinking that you need to work with their specific vendors to get your kitchen cabinets. However, most builders will be more than happy to accommodate you and allow us to design your custom kitchen cabinets. Here is how we work with builders to ensure that you get the kitchen of your dreams.
Consultation
When you choose us to design your kitchen cabinets, we will consult with you on your needs and what you want for your kitchen. If you are doing a kitchen remodel, we can come to your home and learn what works for you and what needs to be changed from your current kitchen. After discussing our custom solutions, we will contact your builder and consult with them on how to best incorporate your custom cabinets into your kitchen build.
Coordination
We will coordinate with your builder to ensure that your kitchen is finished on time. We can schedule your cabinet installation to coincide with the schedule of the builder for your kitchen. We certainly don't want to step on any toes or delay your kitchen from being finished.
Installation
We will completely design and install your custom kitchen cabinets, working around the builder's schedule and needs. We handle all aspects of the cabinet design and installation, which can save you money on your builder's end. 
If you are interested in learning more about how our custom kitchen cabinet solutions might be best for you and your kitchen, contact us today for more information or to get started with a consultation and estimate.