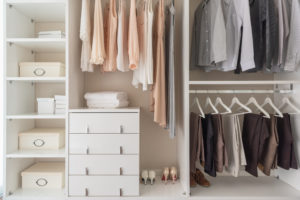 Closets provide valuable storage space for clothing, shoes, household supplies, and anything that needs to be stowed away. However, the design of your closet can make an enormous difference in how effectively you can store your belongings. With the right organizational details, you can make the most of your space and store more items than you thought possible. 
Having your closet remodeled with expert design services is the best way to achieve an organized, space-saving closet to fit your needs. Here are some ideas to consider as you plan a closet remodeling project:
Upper Storage Space
Items that you frequently reach for, like work clothes and jackets, should be easy to access in your closet. However, items that you don't often need, like suitcases and spare sheets, can be stored higher up. With a custom closet that provides upper storage space, you'll save the space that's within reach for the items that you need the most. Utilizing the highest space on your wall is one of the best ways to maximize storage within a small area. 
Varied Shelf Designs
Shelves that work perfectly for your shoes won't be ideal for your sweaters, and vice versa. That's why it's important for your closet to feature a range of shelves. From a wall of cubes for your shoes to deep shelves for your suitcases, there are countless ways to mix and match shelves to hold all of your items. 
Adjustability
We're only human, and that means that our needs are always changing. To accommodate shifting needs, incorporate adjustability into your remodeled closet design. Adjustable shelves give you the option to reassess your storage periodically and change shelve positioning accordingly. So, after your next shopping spree or decluttering session, your closet will still fit your needs. 
Total Design Source is a leader in custom closet design, construction, and customer service. Contact us today to begin your closet remodeling project.