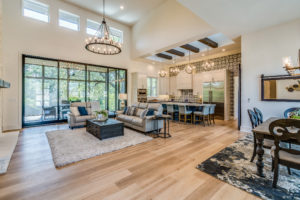 Selecting the flooring for your home is a big decision. Many different types of flooring are available, but some options are better for specific rooms than others. To make the best choice, it is best to consider the unique needs of each room in your home, then research which flooring products fulfill those needs. 
The Dining Room, Living Room, and Bedrooms
Your dining room, living room, and bedrooms need to stand up to heavy foot traffic. But, you don't have to worry about moisture and humidity, as you do in the kitchen and bathroom. Plus, in these popular rooms, you'll likely want a beautiful flooring choice that blends in with the aesthetic of the room. With these considerations in mind, solid hardwood is our top choice. Hardwood offers unparalleled beauty and will boost the value of your home. As a more affordable alternative, consider engineered hardwood. 
The Kitchen
When you're choosing to floor for your home's kitchen, it's important to consider the amount of foot traffic, moisture, and grime. Your kitchen will require the most durability out of any flooring in your home. As one of the most durable flooring options, porcelain tile is a smart choice. If you're on a tight budget, vinyl is a more affordable option. 
The Bathroom
While the bathroom doesn't receive as much foot traffic as the kitchen or living room, it's exposed too much more moisture. Water is sure to end up on the floor in your bathroom, so you'll need water-resistant flooring. Luckily, porcelain is a leading, water-resistant flooring choice that offers an elegant aesthetic. 
More Flooring Tips
Consider your pets, if you have any. The rooms in your home that your animals have access to should have pet-friendly flooring. This means that the flooring will need to have excellent durability and wear resistance. Porcelain tile, ceramic tile, vinyl flooring, and laminate flooring are all good options for homes with pets. 

How much maintenance are you willing to put into your home's flooring? If low maintenance is a priority for you, vinyl flooring is a great choice. On the other hand, flooring options like solid hardwood require far more maintenance but will provide additional value to your home. 
If you're interested in renovating your home's flooring, contact Total Design Source today for more information!