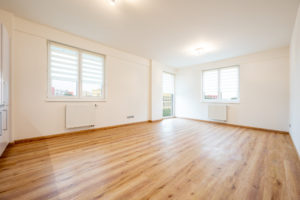 Flooring often isn't the first thing that comes to mind when people think of the home design. However, flooring can have a major impact on the look of every room in your home. By selecting flooring carefully according to both aesthetic preferences and functional needs, you can significantly boost your home's value.  
Wood
Hardwood flooring is a timeless, elegant choice that can be used for most rooms throughout your home. Available in a broad range of colors and types, wood provides the versatility needed to adjust your home's flooring to the unique styles of each room. 
Wood flooring is available in a range of widths, species, and stain colors. You can also choose between natural and engineered wood depending on your budget.  While natural wood is beautiful, it can warp with moisture. So, for basements, laundry rooms, and other rooms that are exposed to a significant amount of moisture, engineered wood can be a superior choice. 
Oak, maple, cherry, walnut, mahogany, and ash are all examples of popular hardwood flooring species. Total Design Source offers premium hardwood flooring from Mohawk Flooring, LM Wood, Great American Hardwood, and Chesapeake Wood. 
Tile
Tile is a waterproof, durable, and easy-to-maintain flooring choice. It's commonly used in basements, bathrooms, kitchens, and laundry rooms, as it won't be easily dented, scratched, or damaged by water. 
While flooring can be a simple, understated flooring choice, it can also be used as an elaborate design element. Bright colors and eye-catching designs are available, along with classic neutrals. In contrast to wood, tile is available in vibrant colors and designs, so you can closely match it with the color schemes of various rooms in your home. Total Design Source offers leading floor tile products from Happy Floors Tile, Bedrosian Tile, Stone Shaw Tile, MSI Tile and Stone, and Olympia Tile. 
Stone and Marble
Stone and marble flooring can add a regal, upscale look to your home. With the practical benefits of durability and shatter-resistance, these sophisticated flooring options are a smart choice for many homeowners. 
Marble flooring will give any room a regal feel. Mainly available in white, gray, and beige tones, marble flooring is neutral in color, yet striking in appearance and feel. That said, marble scratches and stains relatively easily, so it's best used in areas of your home that aren't high traffic. 
Stone flooring gives homes an earthy, yet upscale look. While stone does need regular sealing, it can work well in kitchens, bathrooms, dining rooms, and even entryways. Stone and marble flooring are available from Tarmak Natural Stone and Marble at Total Design Source. 
To revamp your home's flooring, contact Total Design Source today.