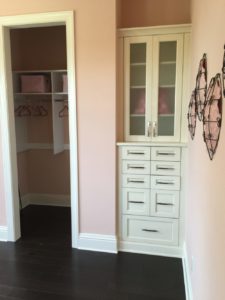 If you have a small home, a small apartment, or a small cottage off of a main house, it can seem like there is just no good place to store your stuff. Many people try to solve this problem with storage totes under tables, beds, or chairs, yet you would be surprised at the unused space in your home. Here are three common misconceptions about storage in small spaces.
One Closet Is Not Enough
Even the smallest of spaces usually has at least one closet, but one closet may not seem like it is enough space to effectively store your stuff. This is because of the way most closets are designed. Most traditional closets only have one or two shelves and hanging rods. This does not maximize the space for effective use. Our expert design team can use unique storage solutions to transform your closet, so that you can store more items in a more organized way.
The Only Extra Space Is Under Furniture
Many people believe that the only extra space in their home is under their bed, chairs, or sofa. People buy a variety of plastic or cloth storage bins to store items in these unused spaces, but these are not the only unused spaces in your home or apartment. There is usually a lot of unused space in corners or small walls that can be easily converted into storage space with our unique storage solutions.
No Long-term Solutions
Many people feel that living in a small space is only a short-term solution due to the fact that they don't have enough space for all of their stuff. Any organization that is attempted is looked at as a temporary fix for a temporary situation, yet storage solutions in small spaces can be long-term solutions. A good example of this is the tiny house boom. Tiny homes are now being designed with excessive storage, sometimes more storage than you will find in a two-bedroom home. We can develop similar storage solutions for your small space.
If you are interested in learning more about storage solutions for your small space, contact us today for more information or visit our website.