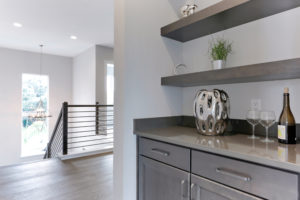 Especially if you have a small space or a large family, finding storage solutions that keep your home clean and organized can be a chore. Yet you may have more space in your home than you think. There are often dead spaces in our homes that don't seem like enough to worry about, but it all adds up to missed storage opportunities. Here are some examples of dead space that you can turn into organized storage.
Corners
In almost every room you will have at least one corner that is unoccupied by furnishings or decorations and has no practical use. Even the smallest of corner spaces can be easily turned into customized storage solutions. You can have a small closet installed in larger corner spaces. In smaller spaces, you can have shelving systems installed. These can be used for craft supplies, toys, board games, video game systems and games, DVDs, music, stereo systems, or any number of other uses.
Bottom of Closets
Traditional closets are built as a completely open space with possibly one shelf and a hanging rod. The vast open space below the hanging rod often goes to waste because it is not easy to stack or organize belongings in this area without spending a lot of money and time on totes and organizing. Even then it may be difficult to access your belongings. With custom closet solutions, you can make use of all of the space in your closet to give you storage space that you previously really couldn't make use of.
Upper Wall Space
If you have at least one room where you don't have a lot of decorations or tall furnishings, you probably have unused space that you don't even think about. Shelving solutions can often be customized and installed in the upper portions of your home. This can give you a place to display your most prized possessions while storing them safely in a clean and organized way.
If you are looking for new ways to make use of your space, contact us today for more information about our custom closets and storage solutions.