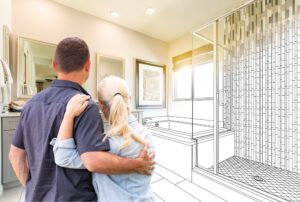 Remodeling your bathroom could have a larger impact than you think on your home. In addition to boosting your home's value, a bathroom remodel can make your bathroom cleaner, safer, and more beautiful. 
Even on a tight budget, a remodeling project can transform your bathroom. Here are our top tips for bathroom remodel:
Upgrade Your Bathroom Cabinets
If your current bathroom has dingy dated cabinets, it is time for an upgrade.. You can find space-saving storage cabinets that suit your bathroom's style, or even consider built-ins for complete space efficiency.  
Countertops that WOW!
Countertops are a definite item that most often customers splurge on. There are many solid surface options to choose from .. GRANITE, QUARTZ, glass etc. You can even find remnants at a granite yard if on a budget. 
Updating Tiles
Re-tiling your bathroom can transform the appearance of the entire room. There are huge selections of tiles in numerous shapes and sizes.  Whether you re-tile the floor, the shower floor, the shower walls, or all three it will certainly bring you TOP DOLLARS at Resale.
Add Designer Features
Meeting with a professional will help guide you to current easy updates to showers such as adding Shampoo Niches or shower benches. Also the selection of plumbing fixtures can make a difference. Hiring a designer will be worth every penny!
Consider adding a Glass shower enclosure
Adding a shower enclosure can help open up the space and provide more open and airy feel. It will also help light to flow into the shower.