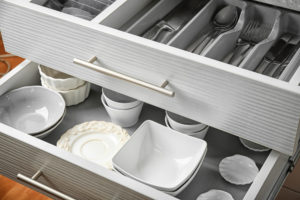 To keep your kitchen tidy and functional, organization is a must. Your kitchen cabinets, in particular, must house everything from pantry items to dishware to kitchen tools and more. For an optimal kitchen setup, you'll benefit from well-designed storage in your kitchen cabinets. 
Cabinet Storage Makes for an Uncluttered Kitchen. 
By eliminating clutter, you can make your kitchen a stress-free zone. Cabinet storage is the most effective way to stow away your kitchen items in an organized fashion.
Varying the depths and shelf heights of your cabinets will make it easy to store items of all sizes. With a cabinet setup that's well-suited to the items in your kitchen, you won't have to think twice about where to place items when you're unstacking the dishwasher or stocking the pantry. With this in mind, having ample kitchen cabinet storage can save you time throughout the day, whether you're preparing breakfast in the morning or clearing away the dishes after dinner. 
Customized Kitchen Cabinet Storage 
No two homeowners are alike. Some people need more storage for pots, pans, and kitchen gadgets, while others need room for an extensive collection of crockery. Custom built-in kitchen cabinets give you the freedom to find the storage that's a perfect match for your needs! 
With custom cabinets, you can opt for personalized touches in your kitchen storage, such as glass cabinet doors to show off unique china or a built-in wine rack. There are limitless options for built-in cabinet storage that will streamline your routine, beautify your kitchen, and increase the value of your entire home.  
Total Design Source is a leading provider of custom built-in cabinet design and installation in the Tampa Bay area. If you're interested in enhancing your kitchen storage with customized cabinets, contact us today to learn more!