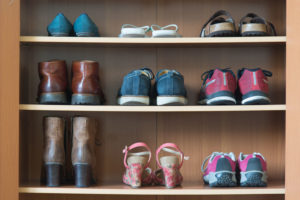 Both men and women alike enjoy collecting shoes. You likely have at least several pairs of shoes for different occasions or outfits. If you have more than one or two pairs of shoes, organizing your shoes and finding a home for them can be difficult. Most closets are not initially designed to accommodate several pairs of shoes. While you could simply line them up on the floor underneath your clothing, there are some great storage solutions for shoes that keep them organized and easily accessible.
Built In Storage
If you have a walk in closet, it is very easy to have built in storage for your shoes. This can be something as simple as cubbies for each pair of shoes. For most shoes the cubbies do not have to be very big, so you could feasibly fit enough cubbies for all of your shoes without digging into the closet space you have left for your clothing.
If you don't have a walk in closet, you could still have cubbies or built in shelves for your shoes. You may want to have your shoe storage built into the lower half of the closet toward the back so that you can hang clothing in front of the shoes, but still move things out of the way to access the shoes fairly easily.
Shoe Storage for Small Spaces
If you have a very small space, you can still have ample places to put your many pairs of shoes. Shoe lovers love cabinets that are built into the wall next to your closet. These spaces are usually unused, and they can add a lot of shoe storage to your home. These types of shoe cabinets can also have hooks installed for storage of scarves, gloves, and other accessories.
If you are a shoe lover with nowhere to store your shoes, contact us today for more information about how we can help. We can evaluate your existing space and help you brainstorm to come up with the perfect storage solution for you. Contact us today.