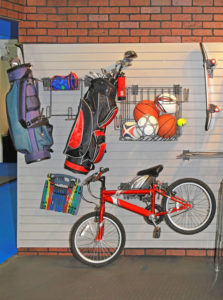 If you lead a very active lifestyle, chances are you have a lot of sporting goods. Sporting goods are one of the most difficult things to store out of the way in an organized manner. Balls roll, poles and bats fall to the side, and protection gear doesn't fit well on a standard closet shelf. The end result is that if you have traditionally built closets, all of your sporting goods end up in the bottom of a closet completely disorganized. If you want to avoid those closets that have things spilling out of them, you'll need some custom closet solutions.
Ball Storage
Whether you are storing basketballs, baseballs, softballs, soccer balls, footballs, tennis balls, or golf balls, you need reliable storage that won't have them rolling all over the place. The best ball storage is a large pull out drawer in the bottom of a closet. With a large enough drawer, you can store a number of balls of varying shapes and sizes in a way that will be easy to find without them rolling when you get into the closet for something else.
Pole and Bat Storage
Do you enjoy skiing and have your own skis and ski poles? Are you a ball player with a variety of baseball or softball bats? Do you play hockey? All of these sports have equipment that is long and difficult to store. With custom closet solutions, you can have an area of the closet set aside for these items with grooves to hold them in place.
Gloves and More
Baseball gloves and other sporting equipment can be kept on shelves, as they don't roll or fall down when unattended. However, you want to make sure that your shelves are wide enough to have space for all of your sporting goods. The shelves traditionally in the top of closets are usually not wide enough to store most sporting gear, especially protective gear.
If you lead an active lifestyle and need more reliable and organized solutions for your sporting goods, contact us today for more information about our custom closet solutions.