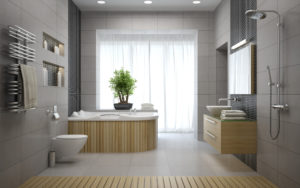 When was the last time you gave your bathroom some TLC? A beautiful, organized, and relaxing bathroom is a major benefit for any home. 
We've compiled some of the top bathroom design ideas of 2021. Home designs are individual but gather ideas from these trends to build a bathroom that you love. 
Wood and Marble
One of the most popular bathroom design trends of this year is mixing and matching striking materials, (namely wood and marble) for countertops and flooring. Each of these materials contributes a different quality to bathroom designs. While wood surfaces add a light, clean, and natural touch, marble is regal and sophisticated. Both wood and marble come in a wide range of hues, giving you the option to make the surfaces in your bathroom truly pop. 
Eye-Catching Lighting
Many people think of striking light fixtures for the dining room. However, in 2021, more and more people are opting for a statement light fixture as the focal point for their bathroom designs. Whether modern, gothic, rustic, or opulent, a stand-out light fixture can be a breath of fresh air in your bathroom design. 
Pop of Color
In 2021, people are thinking beyond classic white walls for the bathroom. Creating a statement wall by painting it a vibrant color can give your bathroom character and depth. An enormous range of paint colors is available, so the world is your oyster with this bathroom design idea. 
Built-In Storage
Built-in cabinets aren't just for the master closet. Custom cabinets can provide valuable storage space for your bathroom, providing plenty of space to store toiletries, cosmetics, hair care products, spare towels, and other essentials. With built-in bathroom cabinets, you can store a surprising amount of items with minimal space, making this bathroom design tip a helpful home hack. 
Total Design Source provides leading custom bathroom design services in Tampa. Contact us to get started on your bathroom renovation.