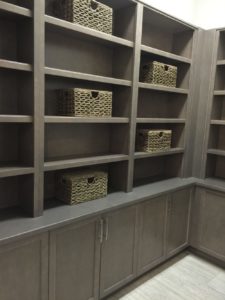 Does your home always seem to be cluttered? Can you just not seem to get every room in the house cleaned at once because things are getting moved from room to room as you clean? These are clear signs that you do not have the right storage solutions for your lifestyle. The primary goal of any storage solution is to have a place for everything and everything in its place.
Closet Storage Solutions
Most closets in homes are not built to be space efficient. Most have a clothing rod, maybe a shelf or two, and a lot of open space that is not great for much of anything. You don't have to deal with this waste of space. Storage solutions can be designed to meet your needs and customized to fit into any closet. If you have a room that needs a closet, we can design the perfect closet according to your specifications.
Cabinet Storage Solutions
We can also improve your cabinet storage solutions in your kitchen or work room. We can make use of every available space to give you as much storage space as possible in your kitchen or work area. We also have accessible solutions that make getting into upper and lower cabinets much easier for those with mobility issues.
Wall Storage
In addition to closets and cabinets, we can turn any blank wall into a bank of customized shelving. You can use such shelving as a pantry in your kitchen, to display trophies or knick knacks in an office, organize your entertainment collection, or any other purpose.
If you are interested in learning more about our design process and how we can customize your storage solutions to meet your needs, contact us today for more information or to get started with a consultation and estimate.