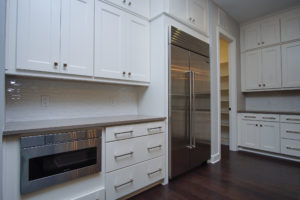 If you have been researching types of cabinets and prices in preparation for your remodel, you have likely come across providers of semi-custom cabinets. Semi-custom cabinets are not the same thing as custom cabinets, which we provide. Here are some of the differences.
What Does Semi-Custom Mean?
Semi-custom cabinets are not custom built for your kitchen. They are stock cabinets that have several flexible options, such as cabinet depth and size. While they are less expensive than true custom cabinets, they may not fit your space very well. Semi-custom cabinets are also only installed for you for a fee. Usually semi-custom cabinets are installed on your own or with a contractor.
Quality
Semi-custom cabinets are still stock cabinets, which means that they are not made of the best quality woods and materials. By contrast, custom cabinets can be any type of wood you desire. Your contractor can help you determine which woods are best for your needs and desires.
Fitting to Your Space
Custom cabinets are built for your space. That means you know that they will fit. If for any reason they don't quite fit right, the installer will be better able to make adjustments without compromising the integrity of the cabinets. This is because with custom cabinets your installer is usually also the cabinet maker. 
If you are interested in custom cabinets for your kitchen or any other room, contact us today to get started on your design.