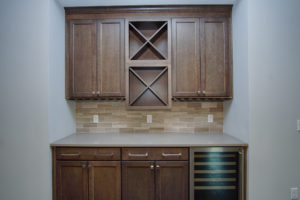 The best part about installing a custom bar is that you can design it anyway you like, especially if you have the help of an experienced professional to tweak your ideas. The downside to this is that your options and opportunities are endless! The only things limiting your custom bar are your imagination and your budget.
To help you start thinking about what you might like for your custom bar, here are some things to consider adding.
Liquor Cabinet
Many people prefer to have open shelves to display bottles and box sets; but if you have children, you may want to install a liquor cabinet instead. Especially if you have teenagers, you want to know they will be safe if you are away from home for a few hours. If you have older teens, you might even want to take off for a weekend. 
In these situations, you have to make sure that your teens don't have access to alcohol. A locking liquor cabinet should do the trick. Even if the lock is not complex, most teens will be discouraged from trying to open it.
Functional Bar Top
If you have a custom bar built, you can make it one solid functional piece of beautiful wood. This would be installed similarly to a kitchen island. On one side, you can set up barstools for all of your friends. On the other side, you can have built in cubbies and shelves or even a built in ice bin.
Aged Perfection
If you'd like to have more of an Old West saloon vibe, you can get custom cabinets that are distressed, or aged, so that they look like old wood. You can have the bar designed so that it looks like an Old West movie with a pale distressed wood and decorate the area with traditional memorabilia.
If you are interested in a custom liquor cabinet or bar, contact us today for more information or to get started.