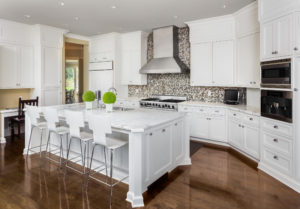 Renovation projects are not only a chance to upgrade your living space but also to enhance the value of your home. You'll be able to enjoy the benefits of the renovation while increasing your profit on a future home sale. 
Some of the best renovation projects to grow the value of your property include:
Built-In Cabinetry
Thoughtfully designed built-in cabinetry can provide both form and function to your home. Among modern home buyers, built-in cabinetry is a desirable feature for its aesthetic value and space efficiency. 
Built-in cabinetry provides storage that's built into your home's structure for a seamless, cohesive look. Whether you choose to install it in your dining room, living room, home office, or any other room in your abode, built-in cabinetry is a smart investment in your property. 
Kitchen Remodel
The kitchen is the beating heart of a home. So, why not make it the focus of your renovation project? Kitchen renovations may include new appliances, fixtures, countertops, lighting, storage, and flooring. The extent of the renovation can be adjusted according to your budget and needs. 
Bathroom Remodel
With a renovation project, you can transform your home's bathroom into a calming oasis. Renovating the fixtures, countertops, cabinetry, lighting, flooring, and paint colors can create a bathroom that increases your home's value. Plus, you'll gain a beautiful yet functional space for relaxation. 
Flooring Replacement
If your home's flooring has undergone years of wear and tear, replacing it can boost your property's value. At Total Design Source, we provide expert flooring services for any room in your home. From marble to stone, tile to hardwood, and everything in between, our design specialists and seasoned flooring installers can revamp your home with showstopping flooring. 
To get started on your next renovation project, reach out to the team at Total Design Source today.