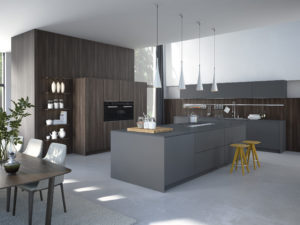 If the design of your kitchen is stuck in the past, it's time for an upgrade. Whether you opt for a complete overhaul or a few minor updates, a renovation can bring your kitchen into the modern age. 
Our top tips for creating a modern kitchen include:
1. Consider Textures For Contrast. 
With stainless steel and bright white dominating many kitchens, it's important to incorporate texture for a balanced, contemporary look. You can achieve this with warm, wooden accents, brushed copper, and various stone elements. 
2. Use Geometric Light Fixtures. 
Geometric light fixtures are an elegant choice for modern kitchens. There are countless styles to choose from, and you can opt for multiple small features or a single large statement feature. 
3. Make Use of Modern Accent Colors.
Monochromatic shades are typically used in modern kitchens, but bold accent colors can add visual interest to the room. With white and gray shades used for the bulk of the kitchen, a pop of sage green or turquoise is a good choice. Black can also be used as an edgy accent color for homeowners who want to make a statement. 
4. Utilize Built-In Cabinetry.
Built-in cabinetry is an excellent method for streamlining the storage in your kitchen. Built-ins are designed to work with the structure of your kitchen, which creates a sleek look while providing space efficiency. With built-in cabinetry, you can make the storage meld into the background so that modern accents and decor take center stage. 
5. Focus on Flooring. 
If your kitchen's flooring has seen better days, there are several ways to give it a modern upgrade. Durability and functionality are crucial for kitchen flooring, but the aesthetic value should also be considered. Genuine wood is a warm, stylish choice, and natural stone can complement a modern space. To make the flooring a centerpiece of your kitchen, consider geometric-patterned floor tiles. 
At Total Design Source, we offer a sweeping array of kitchen renovation services to bring your vision to life. To get started, contact us today!