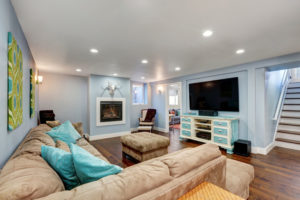 There comes a point in most families' lives when you have to embrace the need for an entertainment room. Whether you choose an unused bedroom, a family room or den, or the finished basement, having an entertainment room can help your family coexist, while also bringing your family together on occasion. Here are some tips for organizing and decorating your entertainment room.
The Custom Entertainment Center
You should start with an entertainment center that works specifically for your collections and interests. If you or your teenage sons like to play a lot of video games, make sure your entertainment center has the ability to run all of the systems in an organized way. Cord organization for the game systems and all other tv peripherals is also important.
Your entertainment center should meet all of your current demands, while also offering some flexibility as technology changes in your home. Having a place to store video games and movies is also a good idea. Getting an entertainment center custom built for your room and needs will be much more beneficial than trying to find one that works for you. The custom entertainment center can also be built into the wall to free up more floor space.
Built-in Shelving for Family Hobbies
Your entertainment room doesn't just have to be about digital entertainment and movies. Your entertainment room can also hold more traditional family activities. You could have an activity table, pool table, foosball table, or air hockey. The tools for these games can be stored in built-in cabinets. You can also use custom built cabinets to showcase your board games, especially if you are a collector of unusual games.
Deck the Walls
Of course, you don't want or need shelving on every wall of your entertainment room, but you can still use some custom built recesses to  provide the perfect showcase for collectibles, pictures, or vacation souvenirs that you can enjoy with your family.
If you are interested in custom cabinets for your entertainment room, contact us today for an estimate.