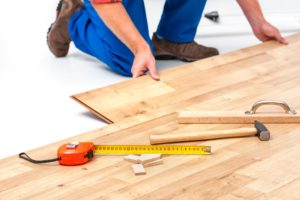 You don't need an oversized budget to make impactful changes to your home. Many affordable renovations can have a big impact on both the form and function of your living space. 
Our favorite affordable home renovations include:
Makeover Your Cabinets.
Whether in the kitchen, bathroom, mudroom, or any other room in your home, a complete cabinet makeover can refresh your home without emptying your bank account. Whether you opt to repaint, replace, or completely overhaul your current cabinets, you'll instantly see the impact that this project can have on a home. 
Refinish Wood Flooring. 
Refinishing your home's wood flooring is a renovation that provides excellent bang for your buck. If you have original hardwood concealed beneath carpeting or exposed hardwood that's lacking some TLC, refinishing it will breathe life back into your home. Refinishing your wood flooring is also a great investment that can truly modernize your property.  
Transform The Backsplash. 
While it may seem like only a small detail of your kitchen, the backsplash makes a large visual impact. So, if you're not in love with your current backsplash, consider changing it. This budget-friendly project can bring out your creative side with limitless options when it comes to color, texture, and design. 
Bring Your Patio to Life. 
With Florida's beautiful year-round weather, most homeowners are interested in maximizing their outdoor space. Installing outdoor floor decking or a patio can help you spend more time outside without having to step foot off of your property. Plus, if you ever choose to sell your home, a patio renovation can serve as an attractive selling point. 
Total Design Source offers a convenient showroom with a comprehensive collection of flooring, cabinetry, countertops, paint colors, hardware, fixtures, and lighting. If you're interested in renovating your home, we can help you find the right project at the right price. Contact us today to learn more!