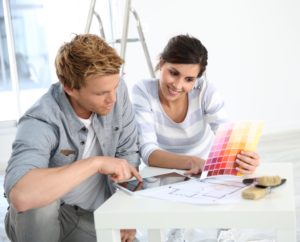 Many people assume that remodeling a home is a big-budget project. While full-home renovations are often costly, there are many ways to reinvigorate your home without spending an arm and a leg. 
Our favorite inexpensive remodeling ideas include:
Repaint Your Walls With a Bolder Shade.
If you're looking to refresh your home's interiors, a new coat of paint is one of the least expensive, and most effective, remodeling projects to choose from. With just a few cans of paint, you can transform a room and avoid breaking the bank.
Whether you choose a bold new paint color, opt for an accent wall, or stick with a subtle shade, a paint upgrade is one of our favorite low-cost renovations. 
Switch Out The Flooring. 
While installing new floors for your entire home can be a costly project, investing in new floors for a few key rooms is a cost-effective renovation. Many products can enhance both the look of the room and the durability of your floors. 
To achieve the greatest impact from this remodeling project, we'd recommend choosing rooms that get the most foot traffic, like the kitchen, entry hallway, and living room. 
Replace The Backsplash. 
Whether in the bathroom or kitchen, replacing the backsplash can breathe new life into your home. Backsplashes can be affordable to install and come in a broad range of designs. 
Upgrade To Built-In Storage.
Built-in cabinets and closets provide the perfect combination of form and function. With this renovation project, you can optimize your storage space while beautifying your kitchen, dining room, kitchen, mudroom, or bedroom – the options are limitless. 
To learn more about home remodeling projects that are within your budget, reach out to the experts at Total Design Source today.