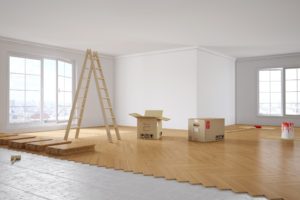 Floor remodeling is a highly valuable home improvement project. New floors provide both form and function, offering benefits for your home's aesthetic and your daily practical needs. But, even with these benefits in mind, many homeowners may be daunted by the prospect of floor remodeling. 
Thankfully, there are ways to simplify this renovation project and get new floors without the hassle. Here are our best tips:
1. Consider The Climate. 
Climate, including temperature and humidity, should largely influence your flooring choices. High humidity can cause warping in certain types of hardwood and laminate. Additionally, certain flooring choices tend to feel cold (tile) while others can add warmth to a home (carpet). With these factors in mind, you can better select new flooring that fits your home.  
2. Consider Your Lifestyle.
All too often, homeowners don't consider crucial aspects of their lifestyle before selecting their flooring. Do you frequently host parties? Does a member of your household have allergies and require hypoallergenic flooring? Asking these questions before embarking on your floor remodeling project will spare you from headaches down the line. 
3. Consider The Room. 
The size and function of the room are critical considerations in floor remodeling. Certain rooms have unique flooring requirements, and the size of the room can impact your budget. For example, kitchen floors need to be easy to clean, and you may be able to splash out on the flooring in a small room that doesn't require extensive materials. 
4. Consider Your Home Decor. 
It's important to remember that while you're redoing the flooring, you're not also overhauling your home decor. So, the flooring that you select should not only be functional for your lifestyle but also meld well with the style of the room. For example, in a room that already features bright colors and bold decor, neutral flooring (such as beige or gray) is likely to be a smart choice.  
At Total Design Source, our expert team can help you select the best flooring option for your Tampa home. Contact us today to learn more!