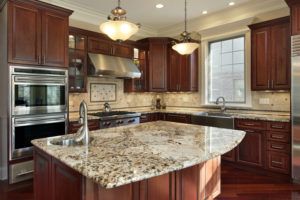 There are a lot of great reasons to have real wood cabinets in your kitchen when you remodel. Although your kitchen may be filled with fancy, shiny, stainless steel appliances, having natural wood cabinets can bring a bit of hominess back to your kitchen space. Here are the different types of wood kitchen cabinets that you can choose from.
Birch
Birch is a very light colored wood that is most often used in bulk kitchen cabinets. The panel doors are usually raised or recessed type doors. They are lightweight, but will not be as durable as other woods.
Cherry
Cherry is the traditional wood to use in English or French style custom cabinets. Cherry wood is very solid and extremely durable. You will never have to buy kitchen cabinets again with this wood. The color is also a deep red and is quite beautiful.
Hickory
Hickory has a deep brown color that can be rich and contrasts well with colored appliances and countertops. This wood is very sturdy, but has very clear markings. It is most often used for colonial our country styled custom cabinets.
Maple
This type of wood is most often used when the cabinets will be painted a specific color rather than left as natural wood. If you want to color your cabinets to match your appliances and counters but don't want to have synthetic materials, maple wood is the way to go.
Oak
There are two types of oak, white oak and red oak, each with its own coloring and distinct markings. Oak is a very solid wood, and it is the most common type of wood for solid, custom built cabinets because it takes staining well without removing the natural grain of the wood.
Pine
This is a soft wood, and therefore it is not as durable as some of the others. However, it is easily distressed or antiqued, so it is a great choice for custom cabinets that have an old farmhouse look.
If you are ready to move forward with your custom kitchen cabinets but aren't sure what type of wood to use, contact us today for more information.